MARY JO CARABELLO, ABCDT, CPDT-KA & STEVE SMITH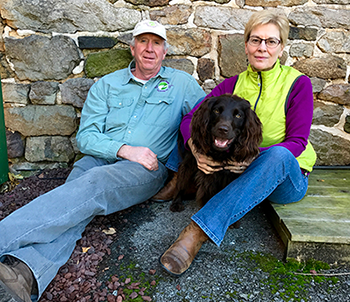 Awesome Dawgs is owned and operated by Mary Jo Carabello and Steve Smith, husband and wife, who are both certified dog trainers. Mary Jo and Steve are experienced in group training classes and private dog training and are members of the Association of Professional Dog Trainers (APDT).
Mary Jo holds a BA from the Catholic University of America, graduated with honors from Animal Behavior College and is Certified Professional Dog Trainer (CCPDT).
Mary Jo is an approved AKC Canine Good Citizen (CGC) evaluator and offers classes in CGC preparation. She is also a Therapy Dogs International, Inc. (TDI) evaluator and offers therapy dog testing at the Awesome Dawgs training facility every three months.
---
Steve is a graduate of Canine Training & Management Program at Kutztown University. Steve is an expert in teaching people how to work their dogs effectively in public. He runs a Level Four class (invitation only) that consists of outings to various local venues, the aim of which is socialization and raising the bar on handling skills.
Because of his difficult role monitoring play in The Dawg Park, he has been dubbed 'Dawg Park Sheriff' and has a badge to prove it!
JENNIFER LONG, KPA CTP, CPDT-KA
Jennifer, a graduate of Albright College, is the Canine Behavior and Education Development Director for Awesome Dawgs Dog Training. Prior to joining the Dawg Team, Jen worked for over eight years at the Humane Society of Berks County. She is a graduate and Certified Training Partner of the Karen Pryor Clicker Academy for Animal Training and Behavior (KPA) and is a certified professional dog trainer through the Certification Council for Professional Dog Trainers (CCPDT). Jen is a member of the Association of Professional Dog Trainers (APDT), International Association of Animal Behavior Consultants (IAABC), and the Behavior Education Network (BEN).
Jen specializes in working with impulsive, reactive, fearful and behaviorally challenged canine clients. She has shared her home with many rescued animals and knows firsthand how emotionally, physically and often times financially draining it can be living with a pet that has behavioral troubles. Jen teaches people how to understand, communicate with, and manage their pets in addition to teaching or modifying behaviors with force-free, positive reinforcement techniques. Building a healthy, balanced and communicative relationship between an owner and their pet is critical to improve the day-to-day living for both ends of the leash.
STEVE ROW, ABCDT
Steve is a graduate of the Animal Behavior College, Maryland University, and a retired Army 1st Sergeant. He has attended workshops with leaders in the field of dog training and behavior including: Dr. Ian Dunbar; Leslie McDevitt; Patricia McConnell, PhD; and Steve White. Steve is an Assistant Instructor for the International Bloodhound Training Institute for the state of Pennsylvania.  He is also a Canine Good Citizen Evaluator and is a member of the Association of Professional Dog Trainers (APDT).
Steve is trained in tracking/trailing and is currently active in his local Search and Rescue team with his yellow Labrador Retriever, Tanner which they are "Trailing" Level 1 certified. Steve and Tanner currently hold the AKC "TD" Tracking Dog certification, the AKC "SAR-W" Wilderness title and has "Man Trailing" level 1 certification through the Pennsylvania Police Canine Association. Steve also participates in group training as well as individual training with Awesome Dawgs.
KATHY WEISS SLEMMER
Kathy graduated from the Canine Training & Management Program at Kutztown University and has attended several seminars of nationally known trainers including Dr. Ian Dunbar, Debbie Jacobs, Kathy Sdao and Suzanne Clothier. Kathy is also a member of the Association of Professional Dog Trainers (APDT). She loves helping people strengthen their relationship with their dogs through training. In addition to working with dogs Kathy is also a Support Center Manager for a large property/casualty insurance company. When she is not working, Kathy enjoys spending time with her husband Lenny and their two dogs, Happy Jack and Tommy.
STEPHANIE ARMENTI
Stephanie is a graduate from Alvernia University with a degree in Psychology. She enjoys using her knowledge of human psychology to help people and their dogs. Stephanie has always been a dog lover but when she rescued her fearful dog, Steve, she decided she wanted to do more than just love dogs: she wanted to help train them. Because of her time nuturing Steve to be more confident, she understands how patience, compassion and positive reinforcement training is critical for improving the life of a fearful dog.
Stephanie is taking her education to the next level and will be pursuing a dog training certification at the Karen Pryor Academy for dog trainers. In addition to training, Stephanie helps out in the Dawg Store and processes all of the training registrations.

THERESA WALLACE
Theresa discovered the fascinating world of canine behavior through training her Wire Fox Terrier, Mingo. The two explored agility in order to solve problems together. In agility they found a deep connection of the heart. It is her desire to help others realize a similar bond through the power of playing with their dog.
Theresa has achieved CGC and TDI status with Mingo and her Australian Shepherd, Georgia. In December 2011 she graduated from the Canine Training & Management Program at Kutztown University. Theresa enjoys sharing her Agility training knowledge to ensure others have fun with their canine partners!
CHRIS GAYDOS
Chris started training dogs in 1998 using positive reinforcement and clicker training methods, which at that time, were just starting to gain popularity with dog trainers.  After years of practice with her own dogs, and dogs she worked with while managing a local dog boarding kennel, she was ready to step out on her own to help other owners who needed help with their dogs.
In 2008, one of her dogs stared in a PetSmart commercial, which sadly only aired in Texas.  Then in 2009, two of her rescued dogs each had roles in a movie, entitled "The Fields."  This movie is a physiological thriller which stars Cloris Leechman and Tara Reed.
Unfortunately, due to some health issues starting in 2009, Chris needed to put dog training on the back burner. Chris experienced a spinal cord injury, and even after two surgeries, is unable to work full time.  After recovery from said surgeries, and unable to resume life as she knew it, she trained her own mobility assist service dog to help her function on a daily basis.
Chris now enjoys helping out at Awesome Dawgs, and is putting her dog training capabilities back into practice.